Interracial Relationships Forum
The Interracial Relationships Forum is a community in which interracial couples can share their experiences and add links to their sites.
All Mixed Up is an online community that supports interracial couples/families and mixed race individuals. You can add links to your homepages, add a photo album, & make your opinions known on the message board. This community also features a chat room and personal invites.

BF-Interrace is an online support group created especially for Black women who are in interracial relationships. Although the group was created with black females in mind, any person regardless of race or sex may join the group and participate in daily discussions and talk about their experiences.You must be at least eighteen to join the group, and have a Yahoo! account.

"Polly Wanna Cracka? is devoted to presenting quality web sites regarding interracial, multiracial, and multicultural families, relationships, organizations, and topics. All sites are welcome to be listed here, as long as they have some significant relation to interraciality and multiculturality -- any races, any cultures, any genders. We are one species, one planet."

Looking to get married?
Blind Heart is an Internet-based company which specializes in creating ethnic figurines and cake toppers for interracial couples. This site features a basic series and signature series of products for interracial couples.

MRA Will Return In January
The Mixed Race Advocate was created because there are very few publications for interracial couples, and even fewer publications for political issues facing individuals in interracial relationships. An extension of Mixed Race Magazine, the Mixed Race Advocate discusses political issues and the on-going corruption of the American political and judicial systems. The Advocate also discusses how corruption in American politics affect interracial relationships.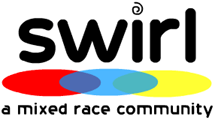 "Swirl aims to unite the mixed community by providing support to mixed families, mixed individuals, transracial adoptees, and inter-racial/cultural couples. Through a Big Sibling/Little Sibling Program, various social events, and educational lectures and discussions, Swirl will be a meeting place for members of the mixed community to celebrate and explore their heritages."